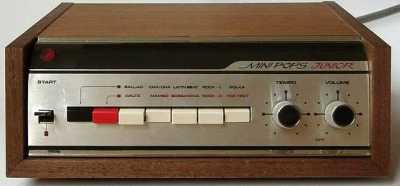 It is an often reported myth that "Echo" was the drum machine although Mac has refered in past tense to the drum machine as Echo. I don't think they ever called it Echo while it was around. It's just one of those cases where the myth became reality. The drum machine that was used was a Korg Minipops Junior.
Will made the Echo thing up and explains how the "Bunnymen" came to be:
The pair (Ian McCulloch and Will Sergeant) met in Liverpool as teenagers in 1978. As the story goes, the group consisted of only the two young musicians and a drum machine named Echo, which allegedly inspired the band's unusual name.
"Yeah, that story is rubbish," Sergeant said. "We used to tell the press we got the name from the drum machine, but that was just to shut people up, you know?"We just wanted a name that was completely different, and Echo was just a word we liked," he said. "Now, Bunnymen, there was an idea behind that, of these weird, spirit, bunny things that, like, existed only in folklore. There's one on the cover of our first single, 'Picture on My Wall.' "
Another interview with Will:
Iterviewer: Back in the 90's, I named my drum machine Echo in your honor. Was Echo really the drum machine or is that a myth?
Will Sergeant: Echo has become the drum machine now. What happened was, everyone used to think Mac was Echo. It used to piss everybody off, really, including him. We just said Echo was the drum machine and it just sort of stuck. It caught the imaginations of people. So, we actually call the drum machine Echo now. It's in getting repaired at the minute.